New tool change system reduces the set-up time considerably
30 April 2020
Another well-known customer from the press shop world relies on the innovative power of the individual plant manufacturer Horstkemper Maschinenbau GmbH for the upgrading of an existing press line.
The background to the customer project is the introduction of a new product generation last year. The new model has the highest demands on the production of deep-drawn parts. As a result, a large number of new press dies with several drawing operations are required in the press line.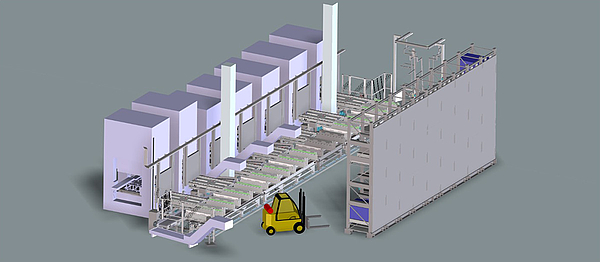 The previous die change system on the existing press line ran in typical "cross-line mode" at right angles to the press throughput direction. The die change was carried out by means of die carrier plates and was essentially limited to 2 die sets and was stored at the press line.
Due to the new product range, several die sets are now required, which cannot be stored directly at the press line. As a result, a new die change system was installed, with which the logistics of the tool sets could be shifted to one side of the press line. This was accompanied by a significant simplification of the operation, a more structured complex changing process and a reduction of the set-up time.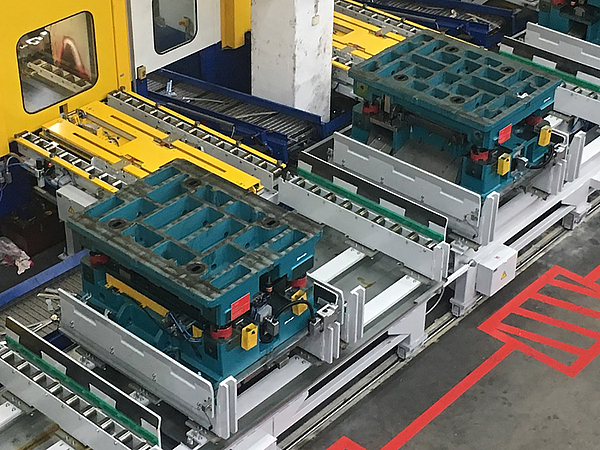 Within the framework of the upgrading of the die change system on the 7-fold press line, modifications were made to deep-drawing presses 1 and 2, 7 change units with integrated telescopic kinematics, 1 die transfer car and a new scrap disposal concept were installed. In addition, a die rack with 45 storage locations was delivered and installed.
The efficiency of the new die changing system, including connected logistics for the storage and retrieval of the complete die set, is best expressed by the now significantly reduced set-up time of less than 30 minutes. This set-up time applies to the changing of all 7 tools as well as the complete storage of the previous die set in the rack system.
Main components of the new die change system:
Upgrade of the drawing cushions on the deep drawing presses
Tool adapter plates
7 pc. tool change units with telescopic kinematics
1 pc. modular tool transfer shuttle
1 pc. modular tool transfer shuttle
Modular die rack storage system prepared for automatic loading by means of an automatic storage system
Extension of the system control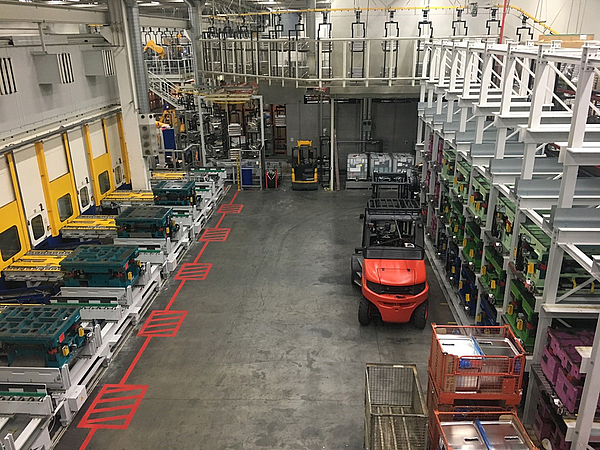 The modular die rack can be expanded at any time and is prepared for fully automatic loading and unloading by means of an automatic storage system .
Please do not hesitate to contact us for further information.